This product is currently sold out.
Ordering this product may require 5-10 working days.
Customer Reviews
GPU

GeForce® GT 710

CUDA cores

192

Video Memory

1GB DDR3

Memory Bus

64-bit

Engine Clock

954 MHz

Memory Clock

1600 MHz

PCI Express

PCI-E x1

Display Outputs

DL-DVI




VGA




HDMI

HDCP Support

Yes

Multi Display Capability

3

Recommended Power Supply

300W

Power Consumption

25W

Power Input

N/A

DirectX

12 API (feature level 11_0)

OpenGL

4.5

Cooling

Passive

Slot Size

Single Slot

SLI

N/A

Supported OS

Windows 10 / 8 / 7 / Vista / XP

Card Length

146.05mm x 111.15mm

Accessories

2 x Low profile bracket I/O brackets, Driver Disk, User Manual
Description
The new ZOTAC GeForce® GT 710 PCIe x 1 dedicated graphics card adds flexibility to the computer. From small form solutions to system servers, this card is perfect for users who are looking to add support for another display, or even improve the performance of dated integrated graphics. Based on NVIDIA Kepler architecture, the ZOTAC GeForce® GT 710 PCIe x 1 comes in half height half length form factor, enabling a perfect fit for those systems with space constraint. The card's only takes tiny sips of energy when it comes to power consumption, only utilizing a maximum of 25W power, yet it has the capacity to connect up to 3 displays with DVI, HDMI and VGA output. Combined with the passive cooling thermal solution, this is the ideal silent upgrade for your system.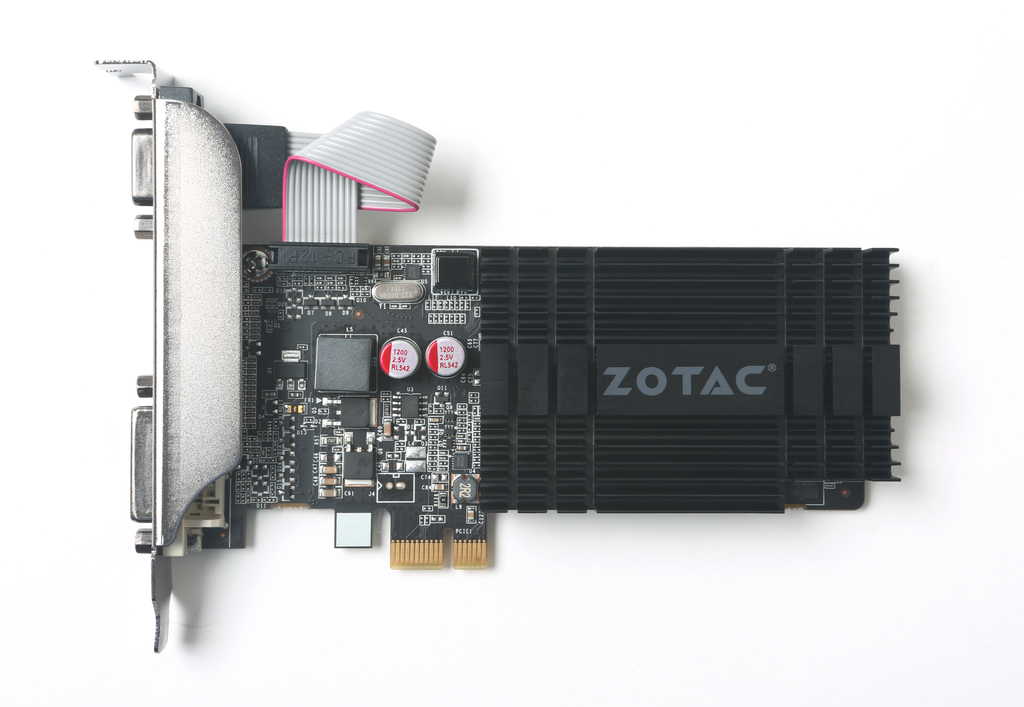 Thank you for your purchase.
When you buy from Techanic, your product is covered by a comprehensive local warranty to give you peace of mind. The warranty period depends on each respective Brands' policies as they apply to Singapore.
Buying from Techanic means your product has been automatically registered for you. You do not need to submit any additional requests or documents.
Visit us at 55 Serangoon North Ave 4 #09-01 Singapore 555859,
contact us at +65 8324 2642 (+65 Techanic) or email us at contact@techanic.com for any warranty-related matters.
Product quantity
Wonderful product! I'll buy more!