This product is currently sold out.
Ordering this product may require 5-10 working days.
Customer Reviews
Model No.

SST-SG08B (black)

Material

Extruded aluminum front panel, steel body

Motherboard
Mini-DTX

, 

Mini-ITX
Cooling system

| | |
| --- | --- |
| Front | -- |
| Rear | -- |
| Side | Oversized vents |
| Top | 120mm/140mm/180mm fan slot |
| Bottom | VGA exhaust divider |
| Internal | -- |

Drive bay

External

Slim optical x 1
--

Internal

3.5" x 1 , 2.5" x 2

Expansion slot

2

Front I/O port

USB 3.0 x 2




Audio x 1




MIC x 1

Power supply

Optional standard 

PS2(ATX)
Expansion card

Compatible up to 12.2" (309mm) long, width restriction-4.84" (122mm)

Limitation of CPU cooler

147mm

Limitation of PSU

160mm

Dimension

222 mm (W) x 190 mm (H) x 351 mm (D), 14.8 liters




8.74" (W) x 7.48" (H) x 13.82" (D), 14.8 liters

Extra


Description 
INTRODUCTION
To further increase the appeal of the groundbreaking Sugo
SG07
, SilverStone engineers crafted a follow-up version in the SG08. For the first time in a SilverStone product and likely also the first for Mini-ITX, a 1cm (0.4 inch) thick extruded aluminum was used to adorn the front panel of a chassis. Finished with fine brush surface and anodized, the SG08's front panel rivals the best home theater equipment in quality and style. The award winning and proven features from the
SG07
remain such as the Air Penetrator
AP181
fan with dual speed switch, easily removable fan filter, positive pressure layout, and the included 80 PLUS Bronze certified 600W power supply. While compact in size at only 14.8 liters, the SG08 is still capable of accepting a healthy selection of full size components. Even the longest consumer graphics cards that are up to 12.2 inches can fit. This extraordinary capacity, along with the cooling power provided by the built-in
AP181
fan, makes the SG08, along with
SG07
, the ultimate Mini-ITX chassis.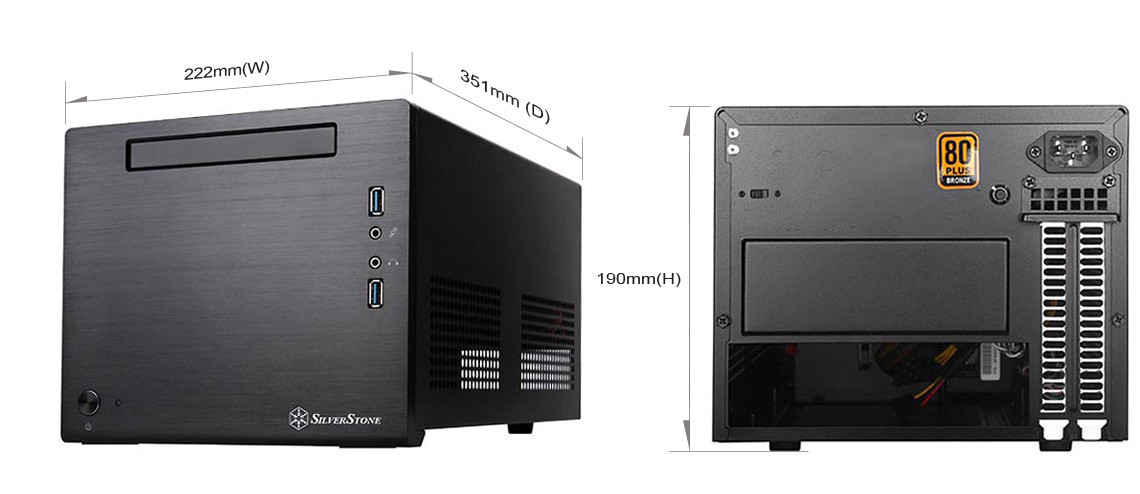 Thank you for your purchase.
When you buy from Techanic, your product is covered by a comprehensive local warranty to give you peace of mind. The warranty period depends on each respective Brands' policies as they apply to Singapore.
Buying from Techanic means your product has been automatically registered for you. You do not need to submit any additional requests or documents.
Visit us at 55 Serangoon North Ave 4 #09-01 Singapore 555859,
contact us at +65 8324 2642 (+65 Techanic) or email us at contact@techanic.com for any warranty-related matters.