This product is currently sold out.
Ordering this product may require 5-10 working days.
Customer Reviews
Model No.

SST-ML06B-E (black)

Material

7mm aluminum front panel, 0.8mm steel body

Motherboard
Mini-DTX

, 

Mini-ITX
Cooling system

| | |
| --- | --- |
| Front | -- |
| Rear | -- |
| Side | 2 x 80mm fan slot |
| Top | 1 x 120mm fan, 1500rpm, 18dBA |
| Bottom | -- |
| Internal | -- |

Drive bay

External

9.5mm/12.7mm slim slot-loading optical drive x 1 (replaceable with 3.5" HDD x 1 or 2.5" HDD x 2 or 120mm fan x 1)
None

Internal

2.5" x 4

Expansion slot

2

Front I/O port

USB 3.0 x 2




audio x 1




MIC x 1

Power supply

1 x Optional standard 

SFX
Expansion card

Single or dual slot low profile up to 6.9" (175mm), width restriction-2.95" (74mm)

Limitation of CPU cooler

37~70mm (variable based on use of multipurpose bracket)

Net weight

2.68kg

Dimension

350mm (W) x 99 mm (H) x 205 mm (D), 7 liters




13.78" (W) x 3.9" (H) x 8.07" (D), 7 liters

Extra

support Kensington lock
Description 
Power/reset buttons, LED, and slim optical drive slot positions are moved to left side.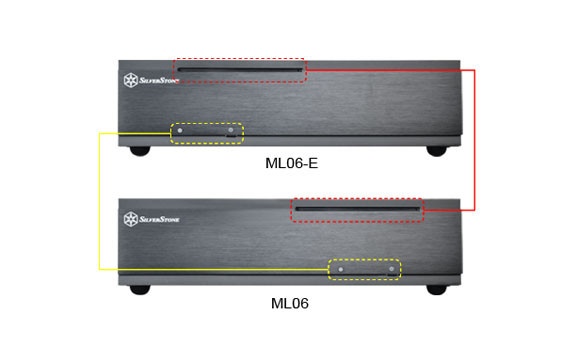 Motherboard location is swapped with drive cage and multi-purpose bracket to allow room for dual low-profile expansion slots. A 120mm slim fan is also included with ML06-E.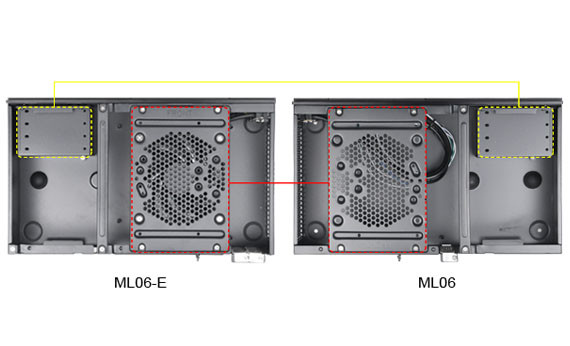 Thank you for your purchase.
When you buy from Techanic, your product is covered by a comprehensive local warranty to give you peace of mind. The warranty period depends on each respective Brands' policies as they apply to Singapore.
Buying from Techanic means your product has been automatically registered for you. You do not need to submit any additional requests or documents.
Visit us at 55 Serangoon North Ave 4 #09-01 Singapore 555859,
contact us at +65 8324 2642 (+65 Techanic) or email us at contact@techanic.com for any warranty-related matters.