This product is currently sold out.
Ordering this product may require 5-10 working days.
Customer Reviews
PANEL SIZE
PANEL RESOLUTION
REFRESH RATE
RESPONSE TIME
PANEL TYPE

VA

VIEWING ANGLE

178°(H)/178°(V)

ASPECT RATIO

16:9

DISPLAY COLORS

16.7M

VIDEO PORTS

1x DP(1.2a)




2x HDMI (2.0b)

AUDIO PORTS

1x Earphone out

POWER TYPE

External Adaptor 20V 3.25A

POWER INPUT

100~240V, 50~60Hz

SIGNAL FREQUENCY

70.56 to 243.37KHz(H)




48 to 165Hz(V)



DIMENSION (W X H X D)

611.5 x 457.9 x 225.4 mm ; 24.08 x 18.23 x 8.87 inch

WEIGHT (NW / GW)

5.4 kg / 9.0 kg ; 11.9 lbs / 19.84 lbs

NOTE

Display Port: 2560 x 1440 (Up to 165Hz)

HDMI: 2560 x 1440 (Up to 144Hz)
 Description
CURVED FOR YOUR VIEWING PLEASURE
Optix monitors use a curved display panel that has a curvature rate of 1500R, which is the most comfortable and suitable for a wide range of applications from general computing to gaming. Curved panels also help with gameplay immersion, making you feel more connected to the entire experience.
ANTI-FLICKER  TECHNOLOGY

Generic monitor displays normally have a flicker-rate of about 200-times per second, which is unnoticeable to the naked eye, but can cause fatigue over time. MSI Anti-Flicker technology provides a very comfortable viewing experience by reducing the amount of flicker.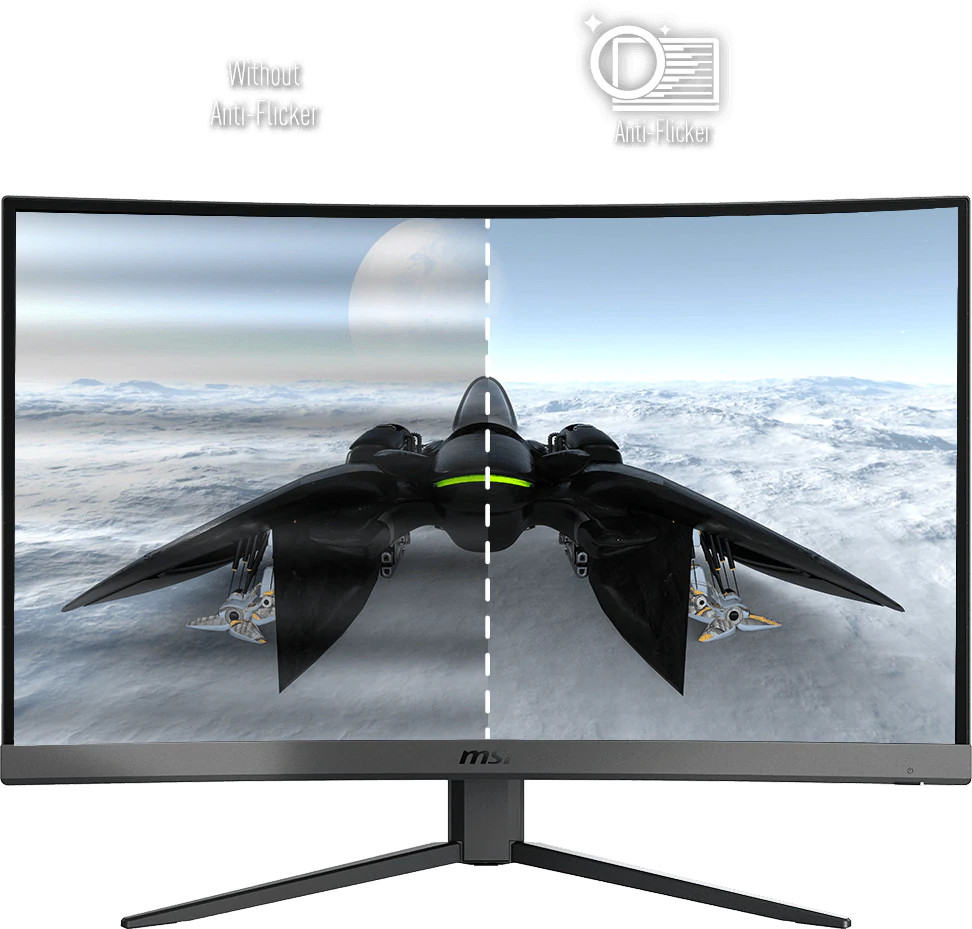 VIEW WIDER FIGHT BETTER
Optix G27CQ4 curved gaming monitor features a 27" WQHD panel that supports resolution up to 2560x1440. This 16:9 panel allows gamers to examine bigger game scenes compared to other traditional FHD panels, and put them ahead of other competitors. Such resolution also allows gamers to multitask with several windows displayed in the same time, providing the efficiency for them to achieve everything they want.
Thank you for your purchase.
When you buy from Techanic, your product is covered by a comprehensive local warranty to give you peace of mind. The warranty period depends on each respective Brands' policies as they apply to Singapore.
Buying from Techanic means your product has been automatically registered for you. You do not need to submit any additional requests or documents.
Visit us at 55 Serangoon North Ave 4 #09-01 Singapore 555859,
contact us at +65 8324 2642 (+65 Techanic) or email us at contact@techanic.com for any warranty-related matters.