This product is currently sold out.
Ordering this product may require 5-10 working days.
Customer Reviews
| | |
| --- | --- |
| Screen Size | 24 inches |
| Max Screen Resolution | 1920 x 1080 pixels |
| Brand Name | SAMSUNG |
| Series | LS24E45UFS-EN |
| Item model number | LS24E45UFS-EN |
| Item Weight | 3.4 Kg |
| Product Dimensions | 56.5 x 5.7 x 33.3 cm |
| Color | Negro |
Description 
Clear picture quality with fast response time
• Fast 5ms Response Time: See fast on-screen motion clearly and smoothly with less motion blur, judder or ghosting. • Full HD Resolution: Provides clean and crisp picture quality in 1920x1080 resolution so you can see all of your content clearly.
Easy on the eyes for a more comfortable viewing experience
• Eye Saver Mode: Unlike other colours emitted from screens, blue light wavelengths have a more stimulating effect on the retina, causing eye fatigue. Eye Saver Mode optimises your viewing comfort by smartly reducing blue light emissions at the touch of a button. • Flicker Free: Flicker Free technology reduces screen flickering for a more comfortable viewing experience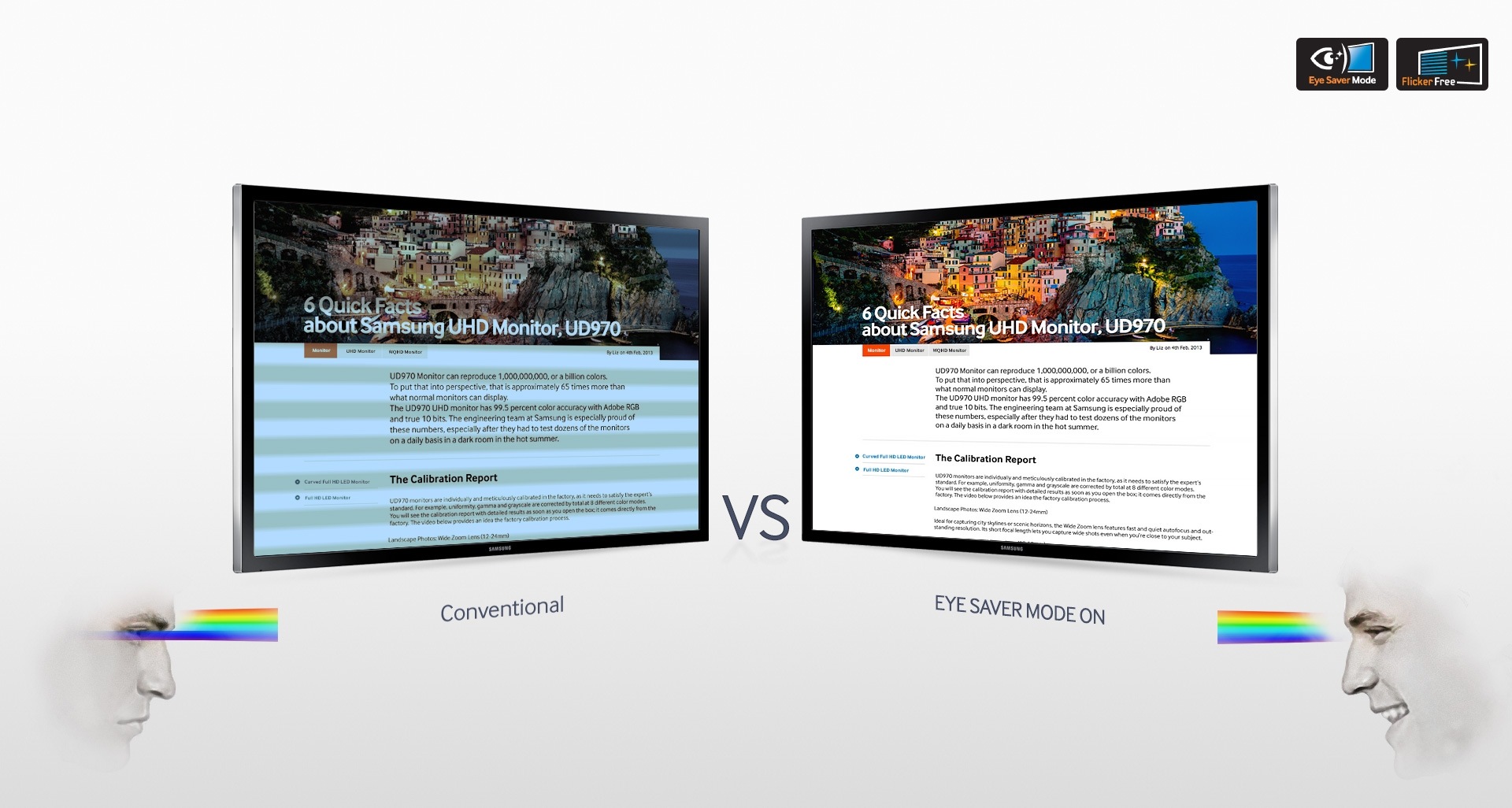 Save energy with energy-efficient features
• SMART Eco Saving: The SE450 reduces power consumption without a noticeable loss in picture quality thanks to eco-saving technology that automatically adjusts the brightness of the screen's black sections while simultaneously adjusting the RGB gain values. • Off Timer Plus: The SE450 offers an Off Timer setting that automatically turns off your monitor after a pre-set time, and an Eco Timer setting that turns off your monitor after a pre-set period of inactivity, reducing energy consumption.
Eco-friendly materials for a better environment
• Recycled Plastics: All Samsung business monitors are made of 30% recycled plastics. • PVC Free: Monitor mechanisms and circuits are constructed without PVC* making for a more eco-friendly device, lessening environmental impact. • Accessory Packaging: Samsung has reduced the LDPE** in accessory packaging from 100% to 80% by using bio-friendly Tapioca (20%) as an alternative manufacturing material. Samsung packaging is now Vinçotte-certified. *Some cabling contains PVC. **LDPE (Low-Density Polyethylene): A thermoplastic made from the monomer ethylene.
Thank you for your purchase.
When you buy from Techanic, your product is covered by a comprehensive local warranty to give you peace of mind. The warranty period depends on each respective Brands' policies as they apply to Singapore.
Buying from Techanic means your product has been automatically registered for you. You do not need to submit any additional requests or documents.
Visit us at 55 Serangoon North Ave 4 #09-01 Singapore 555859,
contact us at +65 8324 2642 (+65 Techanic) or email us at contact@techanic.com for any warranty-related matters.