This product is currently sold out.
Ordering this product may require 5-10 working days.
Customer Reviews
CPU

Support for 10th Generation Intel® Core™ i9 processors/Intel® Core™ i7 processors/ Intel® Core™ i5 processors/Intel® Core™ i3 processors/Intel® Pentium® processors/ Intel® Celeron® processors in the LGA1200 package

Chipset

Intel

®

 Z490 Express Chipset

Memory

Support for DDR4 5000(O.C.)/4933(O.C.)/4800(O.C.)/ 4700(O.C.)/ 4600(O.C.)/ 4500(O.C.)/ 4400(O.C.)/ 4300(O.C.)/4266(O.C.) / 4133(O.C.) / 4000(O.C.) / 3866(O.C.) / 3800(O.C.) / 3733(O.C.) / 3666(O.C.) / 3600(O.C.) / 3466(O.C.) / 3400(O.C.) / 3333(O.C.) / 3300(O.C.) / 3200(O.C.) / 3000(O.C.) / 2933 / 2800 / 2666 / 2400 / 2133 MHz

Graphics

Integrated Graphics Processor+PARADE PS175 chip

Audio
Realtek® ALC1220-VB codec
LAN

Intel

®

 2.5GbE LAN chip (2.5 Gbit/1 Gbit/100 Mbit)

Storage
4 x SATA 6Gb/s connectors
Back Panel Connectors:

 


2 x SMA antenna connectors (2T2R)
2 connectors (USB Type-C:tm: ports, with USB 3.2 Gen 2 support)
1 x USB 3.2 Gen 2 Type-A ports (red)
6 x USB 3.2 Gen 1 ports
6 x USB 2.0/1.1 ports
1 x HDMI port
1 x RJ-45 ports
3 x audio jacks
Form Factor

Mini-ITX Form Factor; 17.0cm x 17.0cm
Description 
ULTIMATE POWER DESIGN
To fully support the latest 10th Gen ten- cores CPU, the Z490I AORUS ULTRA is equipped with the ultimate power solution with the desired features: direct, digital and multiple phases. After countless experiments and tests, GIGABYTE presents the unbeatable Z490I AORUS ULTRA for enthusiasts and gamers.
NEXT GENERATION CONNECTIVITY
Network connectivity is getting more important nowadays. Majority of Desktop PC are with both ethernet and WIFI for the stable connection to avoid interrupt or bad signal. The Z490I AORUS ULTRA features the fastest WIFI 6 that improves the reliability and performance in dense environment. Furthermore, As 4k Monitor become more popular, ultra high resolution display output is also required.
ADVANCED THERMAL SOLUTION

Grooves on Heatsink Improve Airflow 
7.5 W/mK LAIRD Thermal Conductivity Pad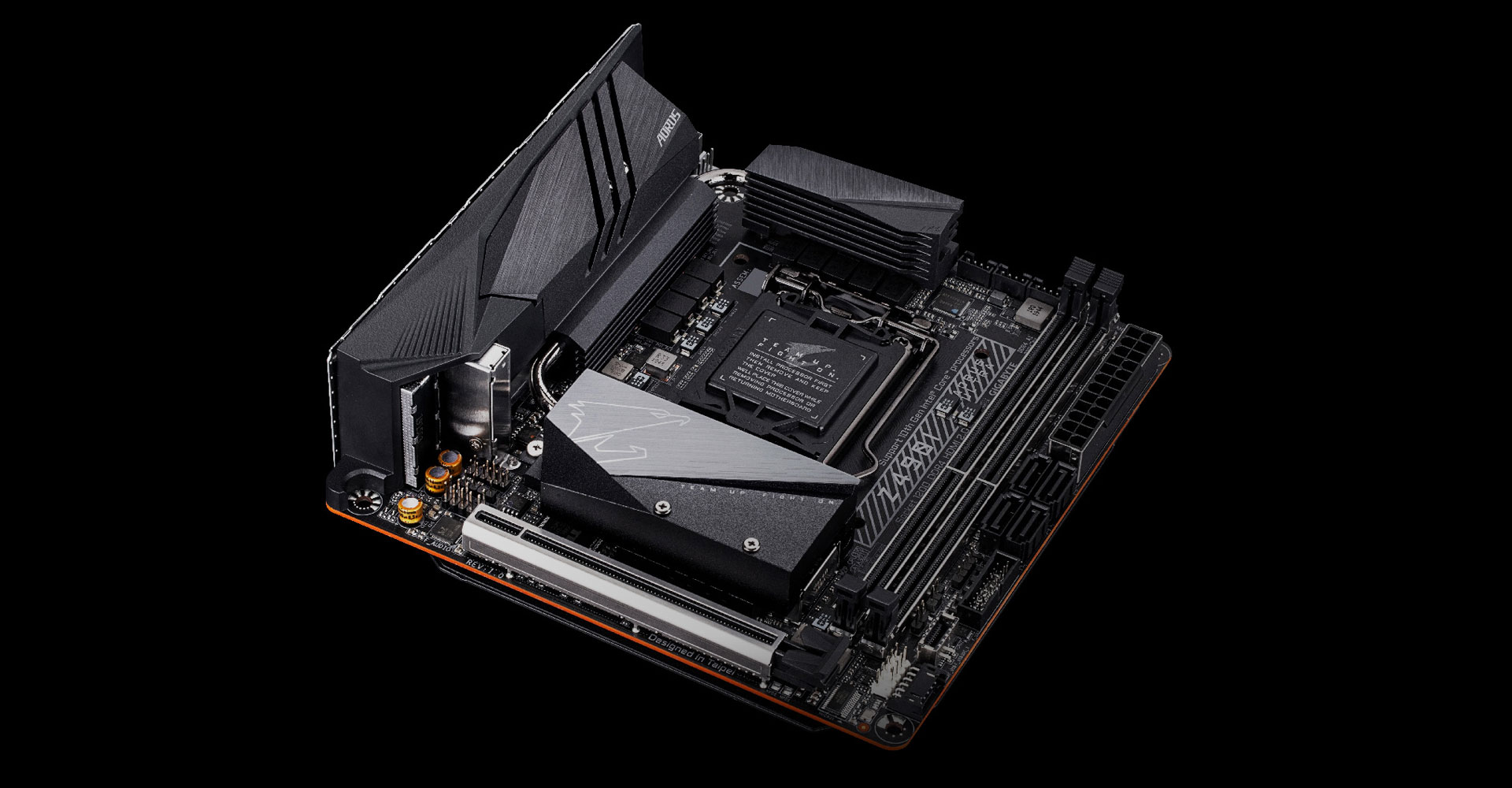 Thank you for your purchase.
When you buy from Techanic, your product is covered by a comprehensive local warranty to give you peace of mind. The warranty period depends on each respective Brands' policies as they apply to Singapore.
Buying from Techanic means your product has been automatically registered for you. You do not need to submit any additional requests or documents.
Visit us at 55 Serangoon North Ave 4 #09-01 Singapore 555859,
contact us at +65 8324 2642 (+65 Techanic) or email us at contact@techanic.com for any warranty-related matters.