This product is currently sold out.
Ordering this product may require 5-10 working days.
Customer Reviews
| | |
| --- | --- |
| Memory Configuration | Dual / Quad Channel |
| Memory Series | VENGEANCE LPX |
| Memory Type | DDR4 |
| Memory Size | 16GB Kit (2 x 8GB) |
| Tested Latency | 18-19-19-39 |
| Tested Voltage | 1.35V |
| Tested Speed | 3600MHz |
| SPD Latency | 15-15-15-36 |
| SPD Speed | 2133MHz |
| SPD Voltage | 1.2V |
| Speed Rating | IPC4-28800 (3600MHz) |
| Compatibility | Intel 300 Series,Intel 400 Series,Intel X299 |
| Heat Spreader | Anodized Aluminum |
| Package Memory Format | DIMM |
| Performance Profile | |
| Package Memory Pin | 288 |
Description
COMPATIBILITY TESTED
Part of our exhaustive testing process includes performance and compatibility testing on nearly every motherboard on the market – and a few that aren't.
XMP 2.0 SUPPORT
One setting is all it takes to automatically adjust to the fastest safe speed for your VENGEANCE LPX kit. You'll get amazing, reliable performance without lockups or other strange behavior.
ALUMINUM HEAT SPREADER
Overclocking overhead is limited by operating temperature. The unique design of the VENGEANCE LPX heat spreader optimally pulls heat away from the ICs and into your system's cooling path, so you can push it harder.
DESIGNED FOR HIGH-PERFORMANCE OVERCLOCKING
Each VENGEANCE LPX module is built from an custom performance PCB and highly-screened memory ICs. The efficient heat spreader provides effective cooling to improve overclocking potential.
LOW-PROFILE DESIGN
The small form factor makes it ideal for smaller cases or any system where internal space is at a premium.
MATCH YOUR SYSTEM
The best high-performance systems look as good as they run. VENGEANCE LPX is available in several colors to match your motherboard, your other components, your case -- or just your favorite color.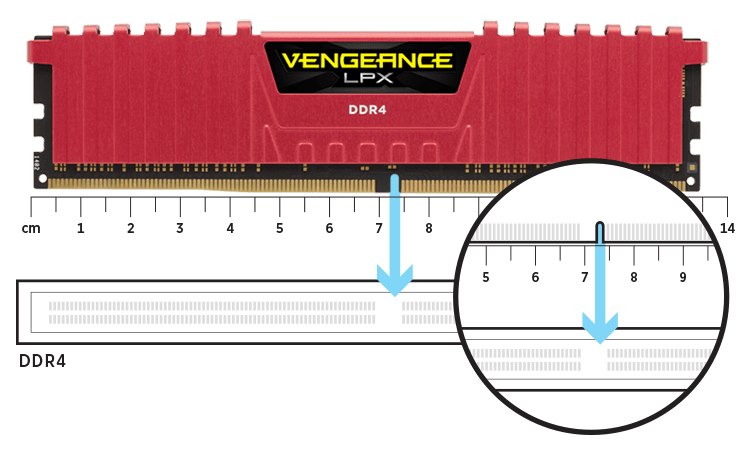 The DDR4 form factor is optimized for the latest DDR4 systems and offers higher frequencies, greater bandwidth, and lower power consumption than DDR3 modules. VENGEANCE LPX DDR4 modules are compatibility-tested across DDR4 systems for reliably fast performance. There's XMP 2.0 support for trouble-free automatic overclocking. And, they're available in multiple colors to match your personal preference.
Thank you for your purchase.
When you buy from Techanic, your product is covered by a comprehensive local warranty to give you peace of mind. The warranty period depends on each respective Brands' policies as they apply to Singapore.
Buying from Techanic means your product has been automatically registered for you. You do not need to submit any additional requests or documents.
Visit us at 55 Serangoon North Ave 4 #09-01 Singapore 555859,
contact us at +65 8324 2642 (+65 Techanic) or email us at contact@techanic.com for any warranty-related matters.