This product is currently sold out.
Ordering this product may require 5-10 working days.
Customer Reviews
Model
ASUS USB-AC68 DUAL-BAND AC1900 USB WI-FI ADAPTER
SKU
ASUS-USB-AC68
Type
Wireless adapter
Features
Instantly upgrades desktops / laptops to dual-band AC1900 Wi-Fi for extended coverage and higher throughput
Powerful 3x4 MIMO design with dual 3-position external antennas, dual internal antennas and ASUS AiRadar beamforming
Included USB 3.0 cradle provides additional placement options to optimize coverage for desktops
Foldable external antennas provide enhanced reception for laptops when open, and portability when closed
Increase Wi-Fi speeds by up to 300% vs. previous gen N900 adapters
Interface
USB 3.0
Frequency Band
2.4 GHz / 5 GHz
Security
64-bit WEP, 128-bit WEP, WPA2-PSK, WPA-PSK, WPA-Enterprise , WPA2-Enterprise
System Requirements
Windows 10 86x64
Windows 8.1 86x64
Windows 8 86x64
Windows 7 86x64
Mac OS X 10.7
Mac OS X 10.8
Mac OS X 10.11
Package Contents
Support CD
USB Extension cable
Warranty card
Warranty
1 year
Dimensions
115 x 30 x 17.5 ~ mm (WxDxH)
Weight
0.044kg
Description




Boost your PC with up to 300% faster Wi-Fi


ASUS USB-AC68 gives your PC a wireless boost of up to 33% on the 2.4GHz band and an amazing 300% on the 5GHz band1 (compared with an 802.11n 3T3R adapter). With a combined data rate of up to 1900Mbps, your desktop or laptop will be able to handle bandwidth-intensive tasks easily.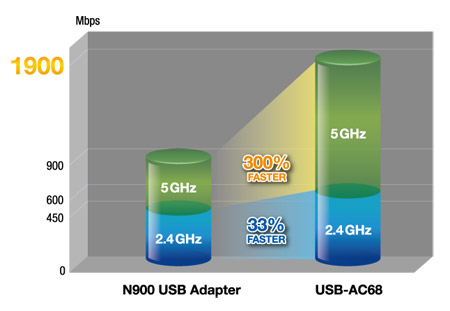 Upgrade your PC's Wi-Fi — instantly!


ASUS USB-AC68 gives your laptop or desktop outstanding signal coverage thanks to its powerful 3x4 MIMO design with dual 3-position external antennas and ASUS AiRadar beamforming. Enjoy full Wi-Fi bandwidth throughout your home without messy setups.





Full speed ahead with USB 3.0!


The USB 3.0 interface allows USB-AC68 to pair with notebooks and desktops with performance that's up to 10X faster than USB 2.0. This gives USB-AC68 more than enough bandwidth to fully support 802.11ac Wi-Fi speeds, so you take full advantage of the latest Wi-Fi standard.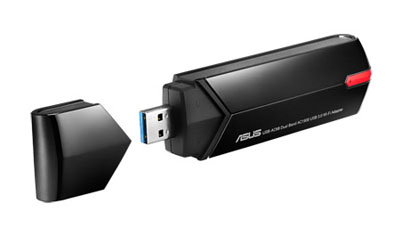 Easy to position for the best reception.


USB-AC68 includes a desktop cradle that makes it easy to place it in the best position for good reception in troublesome Wi-Fi areas.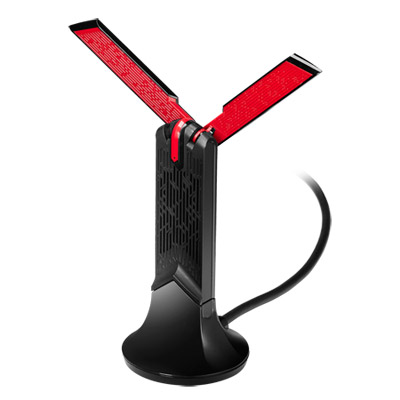 Thank you for your purchase.
When you buy from Techanic, your product is covered by a comprehensive local warranty to give you peace of mind. The warranty period depends on each respective Brands' policies as they apply to Singapore.
Buying from Techanic means your product has been automatically registered for you. You do not need to submit any additional requests or documents.
Visit us at 55 Serangoon North Ave 4 #09-01 Singapore 555859,
contact us at +65 8324 2642 (+65 Techanic) or email us at contact@techanic.com for any warranty-related matters.