This product is currently sold out.
Ordering this product may require 5-10 working days.
Customer Reviews
Wireless Type

802.11a/b/g/n/ac, 802.11ax

Brand Name

ASUS

Series

ROG Zenith II Extreme

Item model number

ROG Zenith II Extreme

Item Weight

9.7 pounds

Product Dimensions

12.2 x 10.9 x 2.5 inches

Item Dimensions L x W x H

12.2 x 10.9 x 2.5 inches

Form Factor
Extended ATX Form Factor
12.2 inch x 10.9 inch ( 31 cm x 27.7 cm )
 Description
SPEC OVERVIEW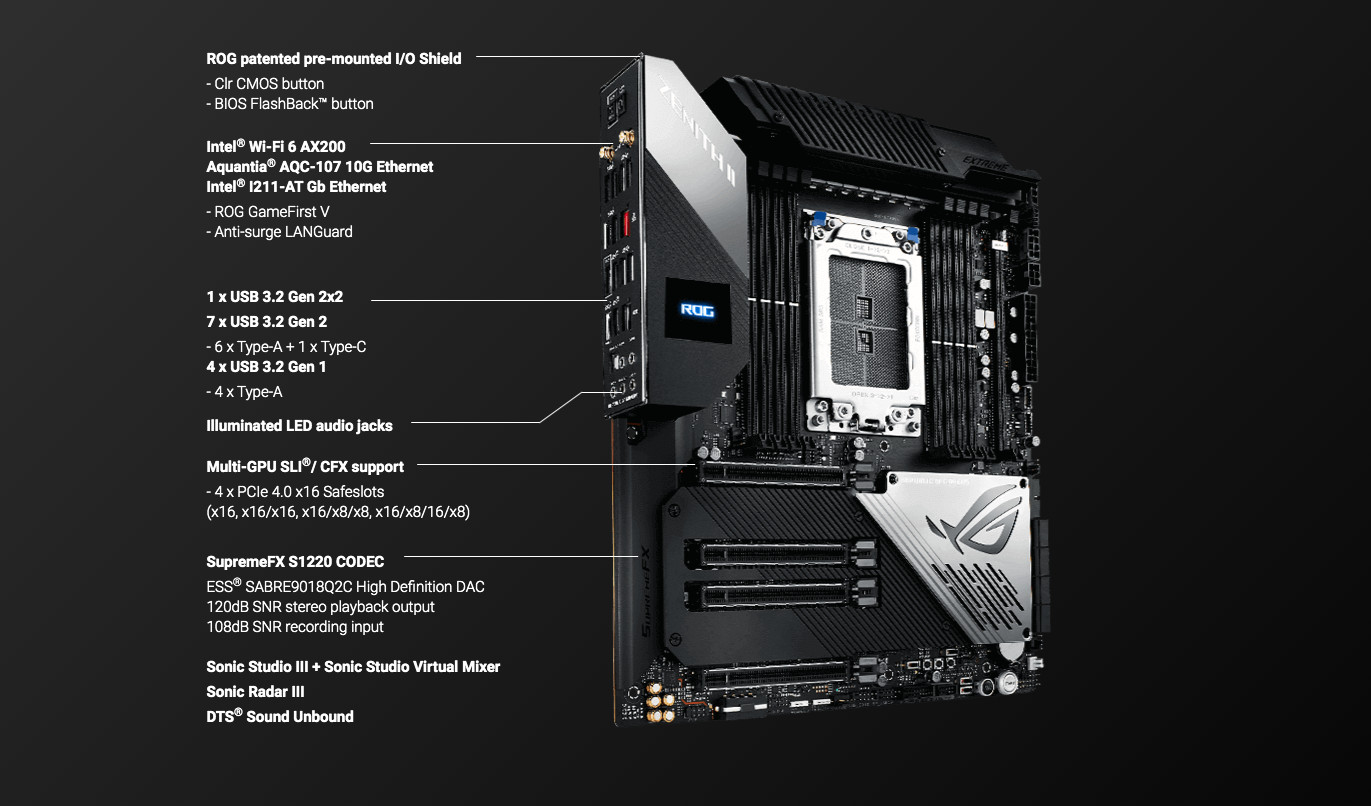 Teamed Power Architecture
Modern CPU architectures up the ante for motherboard power design by transitioning from deep power saving modes to full load almost instantaneously. Our latest VRM architecture rises to the challenge by utilizing teamed power stages to rapidly swing current, while maintaining exemplary thermal performance.

CONNECTIVITY

Having the bandwidth to fuel multiple PCIe SSDs and graphics cards is part of the allure of high-end desktop platforms. ROG Zenith II Extreme fully exploits Threadripper's 64-lane capability, empowering you to connect up to 20 PCIe devices simultaneously. Every single PCIe x16 and M.2 is wired with PCIe 4.0, and the board also accelerates both wired and wireless networking – with both Aquantia 10 Gbps Ethernet and the latest Wi-Fi 6 (802.11ax) onboard.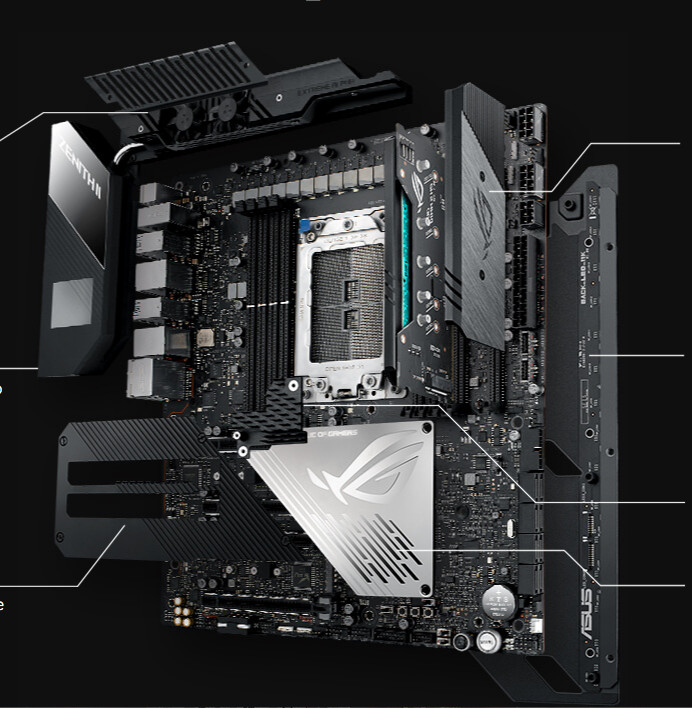 Grow Your Gaming World

Gear up with ROG components, from graphics and monitors to mice and keyboards. And up your game with complementary aesthetics, control and compatibility. The ROG ecosystem is more extensive than any competing brand, so enjoy greater choice as your system expand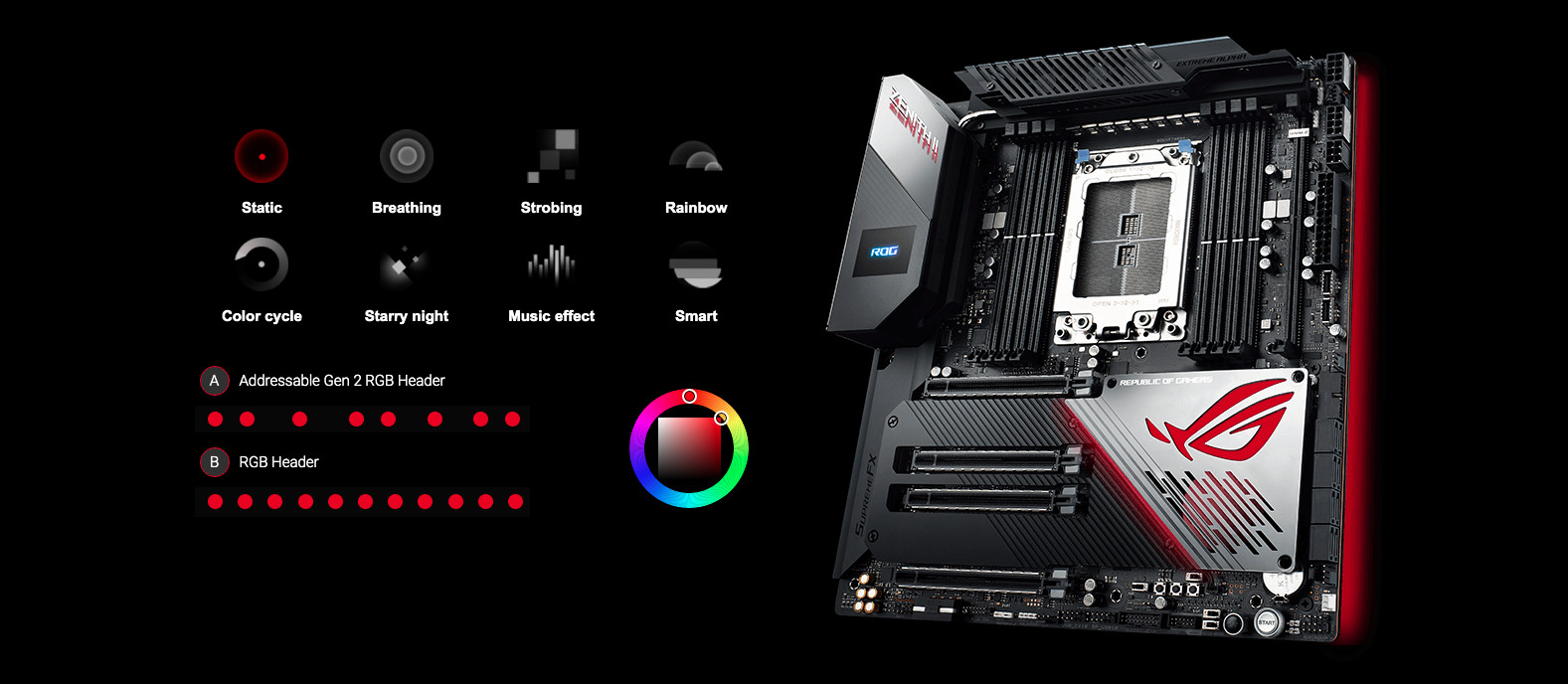 Thank you for your purchase.
When you buy from Techanic, your product is covered by a comprehensive local warranty to give you peace of mind. The warranty period depends on each respective Brands' policies as they apply to Singapore.
Buying from Techanic means your product has been automatically registered for you. You do not need to submit any additional requests or documents.
Visit us at 55 Serangoon North Ave 4 #09-01 Singapore 555859,
contact us at +65 8324 2642 (+65 Techanic) or email us at contact@techanic.com for any warranty-related matters.