This product is currently sold out.
Ordering this product may require 5-10 working days.
Customer Reviews
Model
ASUS PCE-AC88 DUAL-BAND WIRELESS-AC3100 PCI-E ADAPTER
SKU
ASUS-PCE-AC88
Type
Wireless adapter
Features
Dual-band 4x4 AC3100 Wi-Fi with speeds up to 2100 Mbps (5 GHz band) and 1000 Mbps (2.4 GHz band)
External magnetic antenna base allows flexible antenna placement to maximize coverage
Individual antennas can also attach directly to PCIe card for compact installation
Custom heatsink effectively dissipates heat for improved stability and reliability
R-SMA antenna connectors enable compatibility with a variety of aftermarket antennas
Interface
PCI Express
Channels
11 for N. America, 13 Europe (ETSI)
Frequency Band
2.4 GHz / 5 GHz
System Requirements
Windows 10 86x64
Windows 7 86x64
Package Contents
Dipole Antenna x 3
External magnetic antenna base
Low Profile Bracket
Support CD
Warranty card
Wireless LAN Adapter
802.11 b/g/n/ac: downlink up to 1000 Mbps, uplink up to 1000 Mbps (20/40 MHz)
802.11 a/n/ac: downlink up to 2167 Mbps, uplink up to 2167 Mbps (20/40/80 MHz)
Warranty
1 year
Dimensions
103.3 x 68.9 x 21 ~ cm (WxDxH) (Without Bezel)
Weight
125 g (Device Only)
Description





Enjoy 60% faster Wi-Fi on your desktop


NitroQAM™ (1024-QAM) technology gives PCE-AC88 Wi-Fi speeds of up to 2100Mbps (5GHz) and 1000Mbps (2.4GHz), so you can enjoy smooth streaming and low-latency online gaming on your desktop PC.










Unrivaled Wi-Fi reception with the first ever 4x4 adapter


With a four-transmit, four-receive (4x4) antenna design and AiRadar beamforming support, Wi-Fi range and signal stability are improved dramatically for faster, clearer and stronger Wi-Fi. PCE-AC88 pushes your desktop's Wi-Fi reception to higher level, and allows you to unlock the full potential of your 4x4 router!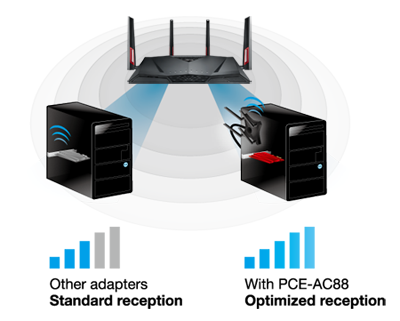 Flexible antenna placement


PCE-AC88 includes extension cables for its detachable antennas, plus a magnetized antenna base that can be attached to any suitable surface – horizontal or vertical. This makes it incredibly easy to find the best antenna location for optimum signal quality.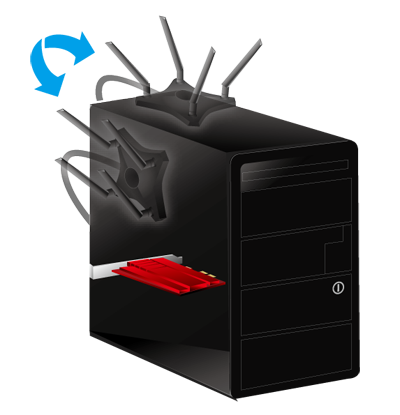 Thank you for your purchase.
When you buy from Techanic, your product is covered by a comprehensive local warranty to give you peace of mind. The warranty period depends on each respective Brands' policies as they apply to Singapore.
Buying from Techanic means your product has been automatically registered for you. You do not need to submit any additional requests or documents.
Visit us at 55 Serangoon North Ave 4 #09-01 Singapore 555859,
contact us at +65 8324 2642 (+65 Techanic) or email us at contact@techanic.com for any warranty-related matters.