This product is currently sold out.
Ordering this product may require 5-10 working days.
Customer Reviews
Model
ASUS PCE-AC56 WIRELESS-AC1300 PCI-E ADAPTER
SKU
ASUS-PCE-AC56
Features
Instant 802.11ac Wi-Fi upgrade for your desktop PC: no more messy Ethernet cables needed.
Next-generation 802.11ac chipset for super-fast connections up to 867 Mbps
Selectable dual-band 2.4 GHz/ 5 GHz operation, backwards-compatible with all existing devices
Broadcom TurboQAM technology gives 33% faster 802.11n performance, with speeds up to 400 Mbps
High-power design reduces wireless dead zones with 150% greater coverage
Specially designed heatsink ensures stable and reliable continuous operation
Interface
PCI Express
Channels
11 for N. America, 13 Europe (ETSI)
Frequency Band
2.4 GHz / 5 GHz
Security
64-bit WEP, 128-bit WEP, WPA2-PSK, WPA-PSK, WPS support
Package Contents
Dipole Antenna x 2
External magnetic antenna base
Low Profile Bracket
Support CD
Wireless LAN Adapter
802.11a/b/g/n/ac : downlink up to 1300Mbps, uplink up to 1300Mbps (20/40/80MHz)
Dimensions
120.9 x 99.1 x 21.6 ~ cm (LxWxH) (Without Bezel)
Weight
105 g (Device Only)
Description




Fast Wi-Fi standard: 802.11ac


The PCE-AC56 uses Broadcom's new 5th generation Wi-Fi 802.11ac chipset to reach speeds of up to 867 Mbps through the 5 GHz band, which is three times faster than 802.11n Wi-Fi. At the same time, it maintains full backward compatibility with all previous Wi-Fi protocols, providing high performance two-way transmission while ensuring a smooth transition to 802.11ac and seamless interconnection with existing devices.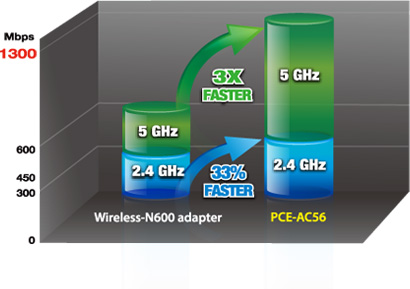 Extend and strengthen your wireless connection


ASUS AiRadar intelligently strengthens wireless connectivity using 802.11ac beamforming technology, high power amplification, and exclusive ASUS RF fine-tuning. This ensures extended coverage, dynamic data speed increases, and enhanced stability.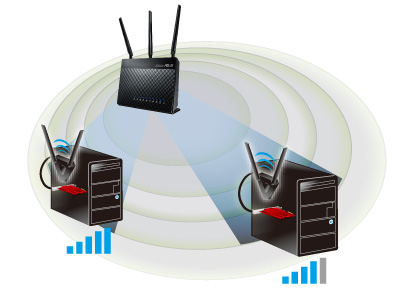 No more dead zones with 150% better coverage!


A powerful signal-boosting high-gain design gives the PCE-AC56 improved signal transmission that extends Wi-Fi range and coverage by up to 150% compared to generic client devices. This extended coverage minimizes the possibility of dead spots at any location, offering fast and uninterrupted HD streaming and smooth multiplayer gaming throughout the home or office.

*Verified by ASUS internal test. Actual performance may vary as a result of network conditions and environmental factors.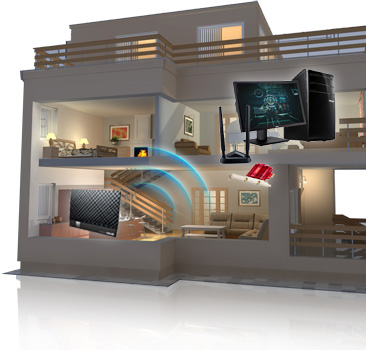 Instant Wi-Fi upgrade for desktops


With its PCI Express interface, the PCE-AC56 plugs into any motherboard to give your desktop an instant 802.11ac Wi-Fi upgrade, with access to speeds of up to 1.3 Gbps. As it connects directly to the motherboard, there are no messy cables to clutter your computing environment, and no dedicated power supply is required.



Thank you for your purchase.
When you buy from Techanic, your product is covered by a comprehensive local warranty to give you peace of mind. The warranty period depends on each respective Brands' policies as they apply to Singapore.
Buying from Techanic means your product has been automatically registered for you. You do not need to submit any additional requests or documents.
Visit us at 55 Serangoon North Ave 4 #09-01 Singapore 555859,
contact us at +65 8324 2642 (+65 Techanic) or email us at contact@techanic.com for any warranty-related matters.