This product is currently sold out.
Ordering this product may require 5-10 working days.
Customer Reviews
| | |
| --- | --- |
| Model | TPG-1250DH3FCT |
| SKU | PS-TPI-1250DPCTEU-T |
| Maximum Power | 1250W |
| Efficiency | MEET 80 Plus Titanium at 115Vac input. |
| Input Voltage | 100V - 240V |
| Input Frequency | 47Hz - 63Hz |
| Input Current | 15A |
| MTBF | 120,000 hrs minimum |
| PFC | Active |
Description

Thermaltake Toughpower iRGB PLUS 1250W Titanium - TT Premium Edition
Thermaltake Toughpower iRGB PLUS Titanium Series features a patented 16.8 million colors RGB fan, 12 addressable single LEDs and high-tech components. With the support for three Thermaltake's intelligent platforms – DPS G PC APP, DPS G Smart Power Management (SPM) Cloud and DPS G Mobile APP– Toughpower iRGB PLUS Platinum Series becomes the world's first voice controllable digital power supply that enables users to access power supply's current status, CPU/VGA/RAM key parameters, control over RGB fan lighting mode and fan speed , along with the real-time alerts covering major PSU abnormalities, and eventually save energy and reduce CO2 emission.
What is Smart Power Management (SPM)?
What is Smart Power Management (SPM)? Smart Power Management (SPM) is a cloud-based software that seamlessly integrates three intelligent platforms – DPS G PC APP 3.0, DPS G Smart Power Management Cloud 1.0 and DPS G Mobile APP 1.0 – and compiles key statistics about your PC into detailed charts and breakdowns for your instant PC status view and management. With easy access to SPM through your PC or mobile devices, whether you are outside or indoors, enjoy taking full control of your build anytime, anywhere!


DPS G PC APP 3.0 for Digital PSU
The new digital PSU solution DPS G PC APP 3.0 enhances the Smart Power Management(SPM) platform. It allows users for a more comprehensive PSU/PC monitoring and control through an even more user-friendly interface to help you manage and reduce your power consumption. 

Real-Time PSU Status Monitoring
Enables users to digitally monitor the key parameters of the power supplies, including efficiency, wattage, voltage, ampere and temperature while using computer.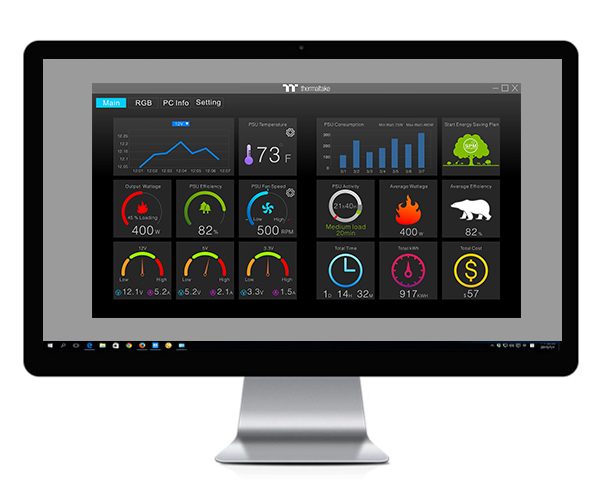 Real-Time PC Status Monitoring
Monitors the key parameters of the CPU/VGA, including temperature, loading, voltage, ampere, and wattage, and also the usage of RAM and capacity of each hard disk.
Warning Alert
The SPM platform comes with real-time warning alert function, which will appear on your DPS G Mobile APP/DPS G Smart Power Management Cloud and also your email when fan failure, PSU over temperature (over 140℉/60℃), or abnormal voltage level (over/under 5% of normal level) occurs. Then users can shut down their PC remotely to avoid further damage.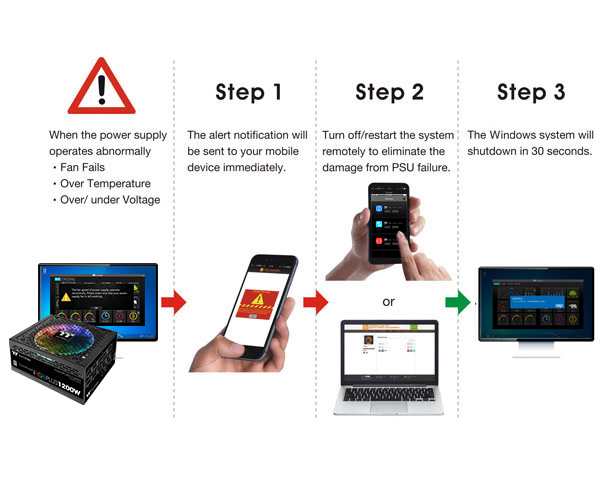 Schedule Shutdown
Save PC energy and electricity cost by scheduling your PC to shutdown at any time you want through DPS G Mobile APP or DPS G Smart Power Management Cloud.
Shimmering Your Build From Color to Color
The Toughpower iRGB PLUS Platinum Series is the best idea for users to go with when they are looking for an RGB PSU with remarkable functionality and aesthetics in all cases.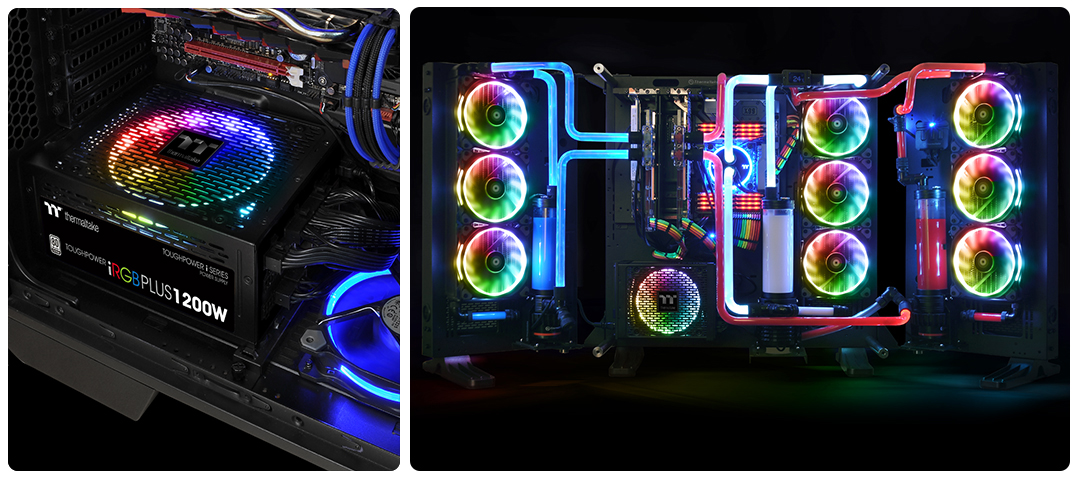 Patented 16.8 Million Colors Riing PLUS 14 RGB Fan
The first iRGB PSU series introduced by Thermaltake install with a patented circular16.8 million multi-colored 140mm fan. Users can freely adjust fan speed and customize the lighting effects with DPS G PC App.

Taiwan Patent: 105218791
US Patent Applied
China Patent Applied
100% High Quality Japanese Capacitors
The Toughpower iRGB PLUS 1250W Titanium features 100% high quality Japanese brand capacitors, which greatly improves the durability and offers the highest stability and reliability.


Fully Modular Cable Design
Fully modular power supply offers cable selection for users while powering the system at an advantageous voltage. Individually sleeved cable and flat cable can make cable management easier, reduce clutter and increase airflow inside the chassis.
Core Component: MCU
Toughpower iRGB PLUS 1250W Titanium Series comes with a 32Bit Microcontroller Unit (MCU) from Microchip Technology. The 32Bit MCU is a small computer on a single integrated circuit containing a processor core, memory, and programmable input/output peripherals. MCU can digitally control devices and processes, such as automobile engine control systems and office machines.
Digital Control Board
Digital power supplies sport high-efficiency switching transistors that perform only necessary steps and waste less energy given off as heat. In short, digital power supplies do not dissipate power, which creates waste, and incorporate smaller, lighter transistors. Using smaller parts that work more efficiently enables Thermaltake to craft smaller and lighter power supplies, typically one of the bulkiest components in any PC.
Massive and Dedicated +12V Output
Toughpower iRGB PLUS 1250W Titanium is equipped with a powerful single +12V rail, please see the output specification below:

AC INPUT

Input Voltage: 100V - 240V
Input Current: 15A
Frequency: 47Hz - 63Hz

DC OUTPUT
+3.3V
+5V
+12V
-12V
+5VSB
Max Output Current
20A

20A

104A

0.3A

3A
Max Output Power

100W

1248W

3.6W

15W

Continuous Power

1250W
80 PLUS Titanium-Certified and Kaby lake-Ready
Toughpower iRGB 1250W Titanium Power Supply with DPS G software delivers up to 94% efficiency under real-world load conditions, promising the lowest power losses. Additionally, Toughpower iRGB PLUS 1250W Titanium has been optimized to work with Intel's new, seventh-generatio Kaby lake processors to achieve maximum energy savings.
TT Power VR Ready
Toughpower i Series power supplies offer stable and sufficient output voltage for multiple VGA cards and high Capability of different VGA cards for VR system.
Thank you for your purchase.
When you buy from Techanic, your product is covered by a comprehensive local warranty to give you peace of mind. The warranty period depends on each respective Brands' policies as they apply to Singapore.
Buying from Techanic means your product has been automatically registered for you. You do not need to submit any additional requests or documents.
Visit us at 55 Serangoon North Ave 4 #09-01 Singapore 555859,
contact us at +65 8324 2642 (+65 Techanic) or email us at contact@techanic.com for any warranty-related matters.
Product quantity
Wonderful product! I'll buy more!